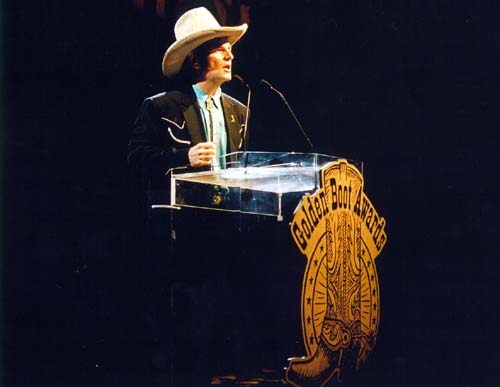 Rob Word at the 1998 Golden Boot Awards
Photo © 1998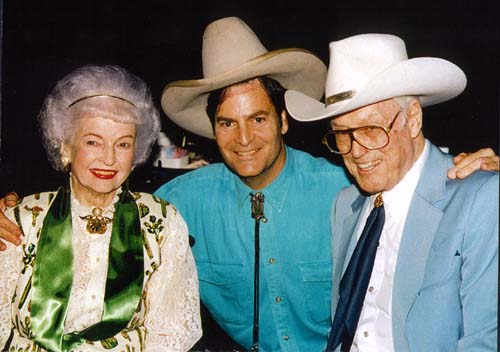 Great looking picture of Dale Evans, Rob Word
and Clayton Moore at the 1998 Golden Boot Awards
Photo © 1998
ROB WORD
Rob Word's love of the West is reflected in his credits. They include developing and producing the top rated CBS movie, Wyatt Earp: Return to Tombstone, starring TV's quintessential Wyatt, Hugh O'Brian, and, among others, Bruce Boxleitner, Harry Carey, Jr., Bo Hopkins and Martin Kove, with Johnny Cash singing an updated version of the famous theme song. He hosted and produced Western Round-Up, a half-hour syndicated special with Roy Rogers, developed, produced (and co-composed the score for) Young Duke: The Series, 13 half-hours for Nelvana Entertainment (some episodes are available on DVD) and co-executive produced Roy Rogers: American Hero for A&E's "Biography" series (available on tape).
Just for fun, Rob appeared in Ben Johnson's last Western feature, Legend of O.B. Taggart, starring and written by Mickey Rooney. He was a programming consultant for Encore's Westerns, Action, Mystery, and True Channels and he appeared over the summer in Westerns tribute to William S. Hart. Rob has hosted and produced several live Western events including Memories of LONESOME DOVE with Robert Duvall, and, of course, he's one of the founding fathers and producer of the Golden Boot Awards, the annual fundraiser for the Motion Picture and Television Fund that pays tribute to those whose hard work has contributed to the western genre in film and on television.. He was honored at the Lone Pine Festival in 1996, and received an Emmy nomination for writing and producing the two hour special, An Ozzie and Harriet Christmas in the early 80's.
Rob recently completed "Citizen Curly" a script for Columbia Pictures and 65 half-hours of a cartoon series called "Totally Tooned In" for Columbia TriStar Television International. The former TV newsman, syndicated columnist and movie host from Florida is married to business manager Laura Lizer, with whom he shares their 3-year-old buckaroo, Robby.