"The Lone Ranger Rides Again…"
by ALR
COPYRIGHT &copy 2001
"A fiery horse with the speed of light, a cloud of dust and a hearty 'Hi Yo Silver!'…"
Clayton Moore, The Lone Ranger, died in December 1999. In late October of 2000, there was an on-line auction held through Sothebys.Amazon.com, officially titled "A Collection of Lone Ranger Memorabilia: The Personal Property of Clayton Moore." You can't mention the name "Clayton Moore" without adding "The Lone Ranger" because you really can't separate the man from the character he played, as his fans knew and his family and friends have confirmed. The auction was a remarkable event for several reasons. It marked the first time that a major television or movie star's personal belongings and memorabilia were auctioned on-line. Too, several pop cultural icons were included in the auction. Chief among them was one of the three masks that Clayton Moore wore during the course of filming the television series, two feature-length movies and in over forty more years of public appearances as The Lone Ranger. One mask resides in the Smithsonian, and one his daughter, Dawn Moore Gerrity, will keep. Other icons up for bid included his original style hat, original style costume and ornate, double-holstered gun rig. When I heard about the event, I briefly searched - in vain - for my streak of post-modern cynicism. But for me, thoughts about The Lone Ranger inhabit an irony-free zone.
Saturday mornings in New York in the early to mid-1950's were dominated by television's first heroes, both human and animal: Sky King, Sergeant Preston of the Yukon, Flicka, Rin Tin Tin. But it was The Lone Ranger who captured my imagination. From the first thrilling, triplet-trumpeting notes of the William Tell Overture until the bad guys were vanquished, I was comforted to know that such a man existed as to set right the wrongs of the world; restoring justice, law and order, fair play and honesty to a little corner of the Old West. A few years ago I discovered a number of Clayton Moore/Lone Ranger fan websites, and periodically checked in. As a result of reading thousands of birthday wishes sent to him over the years on one of these sites, I knew I was not alone in my gratitude for the moral compass he provided. I also knew that I was destined to "return…to those thrilling days of yesteryear" - the memories of a childhood hero - and attend, and possibly participate in, the on-line auction.
So it was that I began to peruse the auction items at Sothebys.Amazon.com. Here was my opportunity to own something that this man owned, touched, wore, relied upon, believed in. Memorabilia collecting is something I have never gotten into, but this seemed a special occasion. But should I? Should anyone? In one sense the question seemed irrelevant. It was being done, after all. Someone was going to own these things. In my researches of the fan web sites, I discovered that Clayton Moore had asked his daughter to put his things up for auction so that his fans could share in a celebration of his life's purpose. That was good enough for me.
There were 126 lots being offered. I started with the budget items: Awards from fans, Lone Ranger action figures, lunchboxes, watches, toy masks, rubber stampers, baseball bat, attaché case, movie lobby cards and posters, a personal coin collection (including dollar bills with The Lone Ranger in place of George Washington), and his collection of "Golden Boot Award" mugs (he was given a Golden Boot Award at the 1st annual ceremony) among others. I wasn't surprised to see a collection of police badges. He once said that when he was little he wanted to be either a cowboy or a policeman. As The Lone Ranger, he got to be both. I knew that someone in law enforcement would want this lot and resolved not to bid on it. The opening bids were generally below $100 per lot. With generic, autographed publicity stills selling on Ebay for $50-$60, this seemed very reasonable. But these things held little meaning for me. It was interesting to see what he liked to collect, but where would you put it? In the end, these items would attract many bidders and the prices would start to push up into the hundreds of dollars (more than $400 for a pair of aluminum "silver" bullets) and occasionally top $1000 (for a miniature Colt .45 and toy bullets in a wooden case).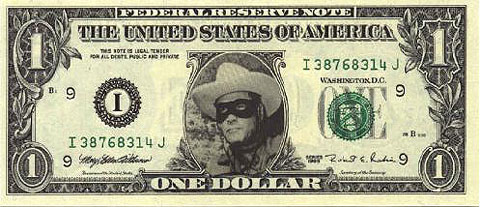 And you always thought George Washington was on the dollar bill.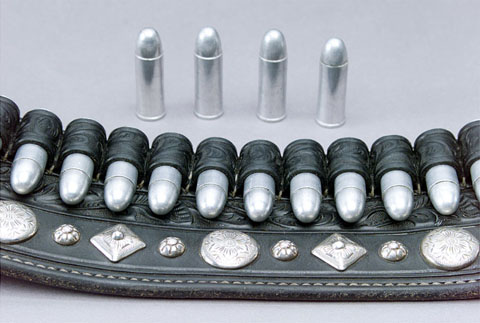 Clayton would give out 'silver' bullets at his personal appearances.
These original bullets are now quite in demand.
I moved on to some things more closely connected to the character. There was his personal copy of the William Tell Overture on a 45 RPM record (kids - go ask your parents what this means), along with the records "Put the Mask on the Ranger" and "The Ballad of Clayton Moore." This lot would attract 9 bidders and sell for $415. There were autographed scripts. His copy of "When the West Was Fun," for example, would sell for $3,300. His script holder from the TV series, a covered metal clip with "Clay Moore" written on it and autographed below with the more familiar "Clayton Moore, The Lone Ranger," would bring $2,555, a bargain for such a unique piece, in my opinion. His collection of all 18 Fran Striker "Lone Ranger" novels (written between 1936 and 1955), complete with original dust jackets in perfect condition and autographed by Clayton Moore, would attract 13 bidders and bring $6,115. A collection of 10 autographed Lone Ranger comics went for $750.
There were some things of Jay Silverheels' - Tonto - in Clayton Moore's personal collection. Through the TV show, The Lone Ranger preached racial tolerance and respect to a country that still practiced segregation. To call Tonto a "sidekick" might be technically correct, but watch how Clayton Moore's Lone Ranger and Silverheels' Tonto interact and you see a genuine, egalitarian friendship that shows through the roles. Jay Silverheels was a full-blooded Mohawk born on the Six Nations Indian Reservation in Brantford, Ontario. As a token of their friendship, Clayton Moore was initiated into the Six Nations as a blood brother and they remained close friends until Silverheels' death in 1980. Tonto memorabilia has always been scarcer, in part because he died so many years ago and in part, I suspect, because his contributions as a co-star and as the first Native American TV star were/are under-appreciated. Included was a magazine article that Silverheels autographed that went for $335. A Tonto action figure sold for $145. The high point was a letter Silverheels wrote to a fan in 1956. It was hand typed and described his origins, childhood, and career at some length and then responded directly to some information contained in the original fan letter. Can you imagine such personal attention to a fan by one of today's television stars? Ultimately, 17 people would bid on this and it would go for $775. Tonto memorabilia has real upside potential, as they say.
Clayton and Jay.
The Lone Ranger was a hero in the ancient tradition. He wasn't a superhero. He didn't have special powers or invulnerability. Likewise, he wasn't a post-modern hero. The character wasn't complicated by doubts, temptations, or distractions. He was just a man with a passion and a mission. And in that way, he was no different from you or me. He chose his path and, by implication, so can you. Right, wrong, good, bad: These were not abstract concepts or complicated by shades of gray. The Lone Ranger knew the difference and so instructed his audience. Here's a suggestion: When faced with an uncertain course of action or a moral dilemma, ask, "What would the Lone Ranger do (WWTLRD)?" I mean besides sending Tonto into town. Not that I abdicate ethical decision-making to external authorities, but a perspective that cuts through to the concepts of right and wrong can be clarifying. But perhaps you're a hardheaded realist, a cynic, jaded by the world's moral ambiguity and certainly unwilling to allow a fictional character's code of ethics to guide your life. "Give me a role model who has lived in the real world," you demand. Okay. This man, Clayton Moore, beginning as an actor playing a role, found his life's purpose in personifying the values of his character. Appearing as The Lone Ranger for nearly 41 years after the end of the show, he once said, about adopting and embodying the creed of The Lone Ranger, "…it was the way I lived my life." Clayton Moore faced real-life issues - having to raise a daughter in the real world, the illnesses and deaths of friends and family, and a battle over the right to continue to portray the Lone Ranger-something that struck at his very identity. And he never faltered. This, in the end, his lifelong adherence to those principles of honesty, decency, respect, justice and fair play, are what elevate him as a role model, from TV and movie star, from pop cultural phenomenon, to true hero. WWTLRD is a guide that has never let me down, and I commend it to you.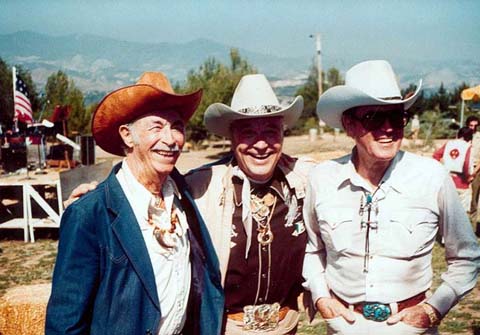 Clayton wearing the turquoise belt buckle and bolo tie.
I decided that I wanted something more personal, something that had been used by him and had meaning for him. Jewelry seemed the next logical place to turn my attention. Here were bolo ties, rings, belt buckles, and his 18k gold Rolex watch (which sold for $10,000). A man's taste in jewelry can tell you many things. These items told me that he liked intricate designs and that he leaned towards turquoise as his gemstone of choice. The rich variation in hues and veining substrates of turquoise, as well as the options for surface texture (polished or rough), makes this a gemstone for people who appreciate each piece as a unique work of art, both by the human artisan and by nature itself. In one lot I found a huge piece of turquoise-larger than my computer's mouse-veined with iron pyrite (fool's gold), and made into a belt buckle. Accompanying the lot was a photo of Clayton Moore wearing the buckle. This was the first major piece I had considered bidding on. I would go back to it day after day, studying its variations in color, wondering how it would look on me. What? You're shocked, shocked to hear that I considered wearing his jewelry? Just what was I going to do with anything I purchased? Display it on a shelf in a glass case? Keep it locked in a drawer that I opened on special occasions? No! Although I have no illusions about being The Lone Ranger, I would wear such a purchase as a daily reminder of those principles for which he stood. And thus I asked myself if I would wear that belt buckle on a regular basis. I had to conclude that, as magnificent as the piece was, it just wasn't me. In the end, going for around $850 (including some bolo ties in the lot as well!), and with only one bid, it was seriously under-appreciated.
There were other belt buckles - a set of seven metal ones with various designs and logos. Two were pretty, although without particular meaning, and the rest, not shown, sounded like the kind of promotional gimmicks that you stick in your bureau drawer and never use. There was a lot consisting of three bolo ties. The same photo of him wearing the turquoise belt showed him wearing one of these bolos. These were very tempting, as here in the Southwest such neckwear is de rigueur. There was nothing about them that held particular meaning for me, but I would keep them in mind if nothing else appealed. There were turquoise rings - very nice - but again, nothing I would wear. Finally, there was a Bohlin-made hatband. Bohlin is a western apparel maker that specializes in leather accessories accented in beautifully detailed silver or gold and was a favorite of movie and TV western stars. This piece was exquisite. It was made of black tooled leather with a 10k gold buckle, keeper and belt tip, with the buckle edged in a rope pattern and decorated with flowers and scrolls. The buckle was inset with three small rubies and personalized in the shield with the inscription "CM." I do not believe that the hatband was part of the original costume. The photo of the original style hat up for auction showed a braided leather hatband. But several photographs of Clayton Moore taken late in life showed what I believe to be this Bohlin hatband on one of his replacement Stetsons. Still, it was a piece that, if I were the kind of man who wore a hat, I could not have resisted. I considered becoming such a man. But I had to admit that this wasn't for me, either. At a final price of $875, if you wear a hat, this was one of the nicer acquisitions of the auction.
I moved on to clothing. Now we were getting personal. I was relieved to see that no undergarments were included. Ebay has had a problem with such things. A blue insulated vest with "The Lone Ranger" on the back, and for which there was a photograph showing Mr. Moore wearing the same, brought $675. My part of the Southwest just doesn't get cold enough for an insulated vest, however. A collection of 13 neckerchiefs looked interesting, but I don't really wear those and it seemed as though they should go to someone who did. There was a pair of his favorite boots, size 9 - 9½, being offered at a starting bid of $2,000. I wear boots about that size, but fit is always a very difficult thing. What would I do with them if they didn't fit? Bookends? Door stops?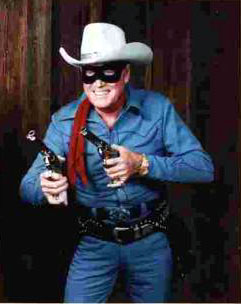 Clayton wearing a costume by Manuel with the
turquoise belt and replacement Stetson hat.
There were a number of suits up for auction. Some were just personal, western style suits, and others were promotional suits that looked similar to his Lone Ranger costume. He had been forced to give up wearing the original costume in 1979, because the Wrather Corporation took Clayton Moore to court to stop his appearing in public as The Lone Ranger. They were producing a new feature-length Lone Ranger movie-to star Klinton Spilsbury in the titular role-and they didn't want the public to be confused by two Lone Rangers. When he lost in court, Clayton Moore couldn't wear the mask, original costume, or famous Bohlin-made gun rig. The Wrather Corporation needn't have worried about people being confused, of course. The public knew who the Lone Ranger was, and it wasn't Klinton Spilsbury. It took 5 years, a flop of a movie (I along with many, many fans refused to see it), a vigorous legal fight by Clayton Moore and a massive outpouring of fan support (reportedly millions of letters) before the Wrather Corporation relented and he was able to don the mask and costume again. In between, however, he had Lone Ranger-like suits made up by Manuel's, as well as a new gun rig made by Alfonso's of Hollywood, and he had been experimenting with sunglasses that mimicked the appearance of the mask. The personal appearance suits, at $3,500, failed to get any bids. The faux gun rig was offered for $15,000. It was a nice gun rig, if you're into that sort of thing - steel lined and nicely tooled - and there was a nice story accompanying the piece about how it came to be commissioned, but no takers here, either. There were 2 white Stetson hats, also faux as far as the original costume goes, that did sell for about $3,000 apiece. The various lots of mask-like sunglasses brought several hundred dollars each, with a particular mask composed of strips of leather applied to a lensless sunglasses frame, garnering 13 bidders and bringing $4,150. Although there is some historical significance here, given that there is no evidence he ever wore the thing in public, I think this was a serious overbid.
Now here was something: Two belts by Alfonso, minus buckles. They were black, and nicely tooled, one with a floral design and the other with oak leaves. The belts were in good condition and the current high bid of $350 was starting to seem like a reasonable price to my now warped senses of value and money. That evening I cleared the cost with my wife. Sort of. Okay, I lied and told her it was a couple of hundred. But by the way she didn't overreact, I inferred that she would accept up to double that. If I found nothing else, I would bid on these belts.
To be complete, and out of curiosity, I finally examined the auctions of the major Lone Ranger items. I had told myself at the beginning that I just wanted some little memento and that I was only window-shopping in this neighborhood. My original budget of a couple of hundred dollars was already shot to hel…er…I mean heck, but I was still holding the line somewhere south of $500. But here I was, looking at the original style hat, a bleached beaver-hide number with that characteristic pencil-roll brim; the hat that told you at once, "I'm the good guy." But they wanted at least $6,000 for it and you already know that I'm not a hat guy.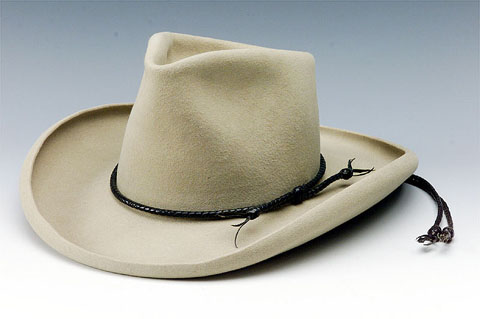 Made of bleached beaver hide, the orginal hat was distinctively different
from the replacement Stetsons which Clayton wore later in life.
There was more. There was the original costume, made by Nudies of Hollywood. It came with the signature baby blue shirt and pants, red scarf, a pair of black gloves and a pair of boots. Sotheby's couldn't guarantee that this particular outfit appeared on the show, but as with the hat, that's not the point. This was Clayton Moore's Lone Ranger costume and the opening asking price of $30,000, although well out of my range, didn't seem out of line to me. Still, this was surely something that belonged in a museum, to be enjoyed by his millions of fans. Besides, what size was he? Would it fit me? I could have it tailored, but that might reduce its value considerably. I don't look that good in baby blue, anyway. I'd pass on this.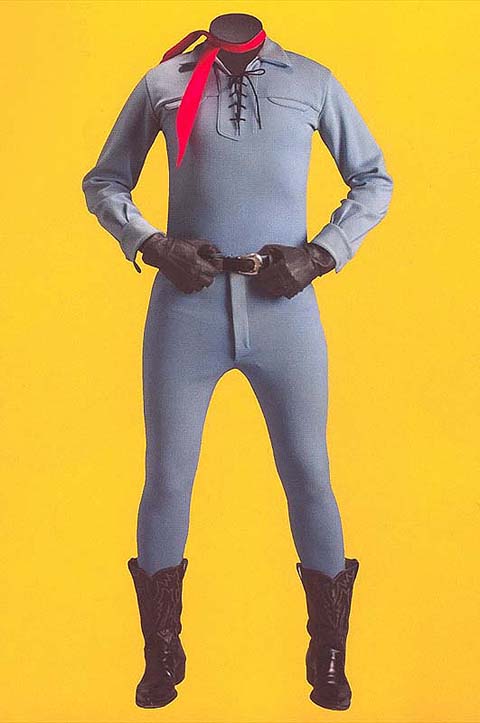 The original costume by Nudies of Hollywood.
Okay, what about the gun rig, then? Made by Bohlin expressly for Clayton Moore, inscribed on the inside to him and signed by the artisans (D. Lang, Jr. and J. Hoiby), it is an exquisitely detailed piece. With its tooled black leather and extensive silver work, this is one of the most recognizable and important elements in the costume. Offered at $40,000, and expected to bring possibly up to double that, this is nearly as much a cultural icon as the mask and white hat. The Lone Ranger needed his guns to enforce law and order and restore justice. Those times were not unlike these, I guess. But - and this is important - he never killed anyone. Usually, he just shot the gun out of someone's hand (affectionately parodied by Tom Beringer in "Rustler's Rhapsody"). The message was that sometimes force is necessary to keep the world from chaos and the designs of greedy, prejudiced and evil persons but, if it is necessary, to employ the minimum required. It has been said that we have only those rights we can defend. And no one personified the defense of human rights better than did The Lone Ranger. The Bohlin gun rig came with 33 aluminum "silver" bullets (about $6,000 worth, right there) and I was very surprised to see it go without a bid. Regardless of who winds up with this, it belongs on display, for all to see its fabulous artistry and to contemplate its meaning.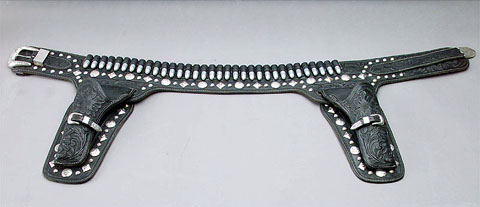 Beautifully tooled leather and intricate silver work adorn this Bohlin made gun rig.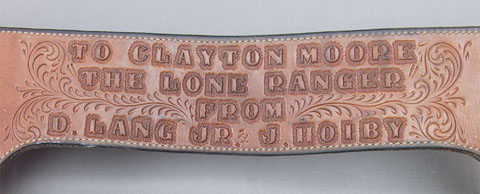 The proud artisans signed their work.
The mask, then, offered at an opening bid of $30,000; could I possibly consider that? The mask is not made out of leather actually (the legend is that it was cut out of The Lone Ranger's murdered brother's vest), but rather out of plaster that had been molded to Clayton Moore's face and covered with black felt. Clayton Moore actually developed this technique. Before this, masks in the movies or TV were of cloth or leather and severely restricted an actor's field of vision. But what exactly was the point of the mask, you might ask? After he had brought Butch Cavendish and his gang to justice, there was no need to pretend that he had died in the ambush-the original purpose of hiding his identity. But unlike his prior position as a Texas Ranger, as The Lone Ranger he was no longer constrained by legal technicalities and due process. "See wrong and right it" was his modus operandi. It was all about direct action, with accountability to…to what? Without a universally accepted code of ethics and adherence to the rule of law, The Lone Ranger is merely someone with his own axe to grind. His actions would be little more than those of a vigilante, subverting law and order, rather than upholding it. It is the knowledge that he would always do right, morally and legally, that makes the mask a symbol of purity in purpose and deed, in not allowing injustice to endure but without resorting to lawlessness itself. And the mystery of his hidden identity (he could be the person sitting next to you) would strike fear into the hearts of those with evil intent. Still, I don't think it would strike much fear in evildoers sitting in a glass case in my living room. Sotheby's estimated that the mask would bring between $40,000 to $60,000. Ultimately, the mask was purchased for $33,000 by a Chicago-area fan.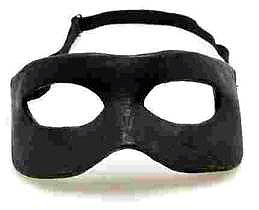 One of the masks used in the series. The original
was of plaster of paris, molded to Clayton's face and
covered in purple felt, which looked better when
filmed in black and white than black felt.
And then I saw it. I had passed over an item time and again because the asking price seemed out of proportion to what it was. What it was, was a black Bohlin belt with an opening bid of $2,000. Unlike the other belts I was considering, it had a three-piece silver buckle set consisting of the silver buckle, keeper and belt tip. But compared with the pair of belts going for $350, this seemed a steep price. And suddenly, it looked familiar. I clicked on the close-up views of the belt. It had fine silver engraving of the buckle, with "CM" inscribed on the shield. The loop and belt tip were likewise detailed and the leather nicely tooled. The accompanying text mentioned that Bohlin, the same maker of his gun rig, made it to be worn with the rig. Now, it was obvious to me what this was. You could be excused if you missed the fact, while looking at publicity stills or while watching the show, that the Lone Ranger was wearing a belt on his pants, because it looks so much like the gun rig and was often covered up by it. The belt and gun rig were actually a matched set, made with the same, tooled black leather and with matching buckle sets. This wasn't just a belt. This was the belt, as integral a part of the original costume as any of the other iconic elements. In fact, of the items at auction, only the mask, gun rig, and this belt could definitely claim to have been in the TV show and movies. Sothebys even included the belt in the photo of the costume lot, although the description of the lot made it clear that the belt was not included in it. The costume just wouldn't appear complete without it. I then looked at as many photos as I could find; of the Lone Ranger in full regalia as well as of Clayton Moore at home and in public over the years. And there was this belt around his waist, long before he got the role (1947, meaning that this was his belt originally and he had the gun rig made to match), while in Lone Ranger garb all through the TV series and the two movies from 1949 to 1958, as well as out of costume in countless other photos from private moments and public appearances well into the 1990's. The belt was in nearly every shot I could find. This belt, too, stood for justice and all the rest. Perhaps you think that I'm imbuing these objects with more gravitas than they deserve. But such is the nature of heroic pop cultural icons. In the case of The Lone Ranger, they represented the finest qualities of our western culture and became emblems of the best we can be. All right, so maybe I was getting a little carried away as a way to justify spending $2,000. I realized that, in another sense, it was only a belt after all. It held up his pants. But that just underscored my other reason to bid on it. The description mentioned that the belt was a size 34-my size. The refrain from "Wayne's World" came to mind: "It will be mine. Oh yes, it will be mine."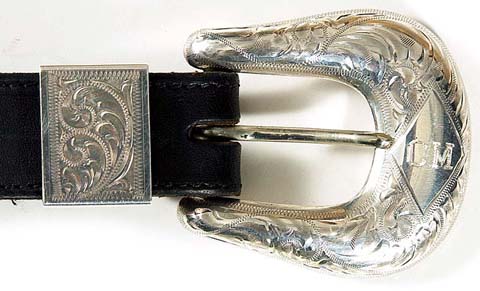 The Bohlin belt worn with the original costume.

It apparently was Clayton's personal belt before he won the role of The Lone Ranger
and the Bohlin gun rig was then made up to match.
The auction was drawing to a close and there were still no bids on the Bohlin belt. I had registered to bid but I was worried that I was unfamiliar with the rules and patterns of bidding on a Sotheby's auction. I place bids on Ebay with some frequency, and like to time my bid for the last moment, hoping to snatch an item before someone else has a chance to rebid. But last minute glitches can happen and so, with about 15 minutes left, I submitted my bid and the screen showed my opening bid of $2,000. The way an on-line auction works is that you indicate your maximum bid, and the computer shows the minimum necessary for you to be high bidder (assuming that you are-if someone has a higher maximum, they're high bidder). I set my maximum bid high enough to ensure that I would remain the high bidder if someone casually thought he might take this near the minimum. Given the lack of any early bidding, I thought, or at least hoped, that the significance of the belt had gone unnoticed. But I was afraid of someone seeing what I had seen and being as determined as I to have it. A bidding war could run the price up to a range where the cost of marriage counseling would start to figure into my calculations. I kept hitting the "reload" button and was gratified to see only my single bid time and again. At last there were only seconds left. On my last click, the one where I thought I would see the auction ended, I saw that a second bid for $2,100 had been placed. I was still the high bidder at $2,150, having put in a sufficient maximum to cover this contingency, but I was completely flummoxed to find that there were now ten more minutes to the auction. I quickly looked up Sotheby's bidding rules and discovered that bids in the last minute automatically add ten minutes to the clock; that only when ten minutes have gone by without a bid is an auction concluded. It doesn't work that way on Ebay, and I had been caught unawares. Now the second bidder put in another bid, this time of $2,200. I was immediately placed as the high bidder at $2,250. But if the second bidder went over my maximum bid-the point I had set as the most I was willing to pay for this piece-would I have the willpower to stay out? Would I have the nerve to go back in? WWTLRD? I calmed myself for the showdown. I kept at the "reload" button, the screen a nearly continuous blur of loading and reloading the web page. The minutes ticked down. At last, again, it was under a minute to go. And then it was over. No more bids. The belt was mine. I felt a surge of elation; then gratitude to Dawn Moore Gerrity for allowing me, and all of us, to share in this; then mild dread, as I contemplated explaining to my wife a particularly large purchase on the VISA bill.
So if you see a middle-aged man walking down the street wearing an ornately tooled and engraved Bohlin belt with a silver buckle, know these things: 1) That I have a secret identity - please don't give me away; 2) That I honor the memory of Clayton Moore, The Lone Ranger by trying to live up to his example; that the belt still stands for justice, law and order, fair play and honesty; and 3) That my pants are secure.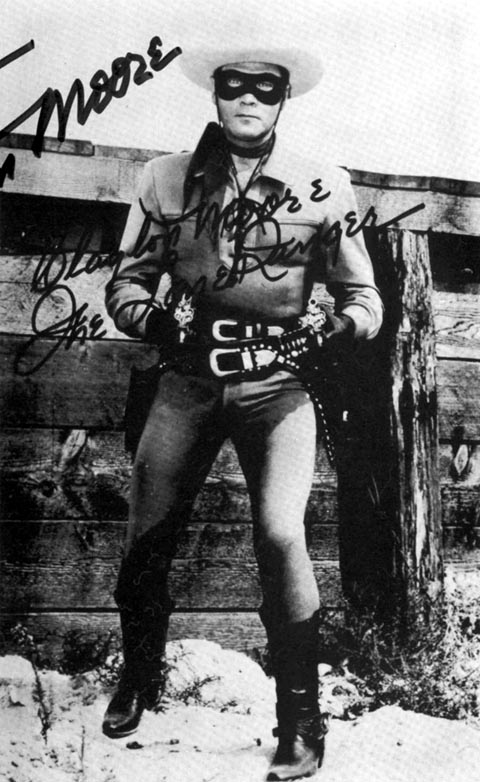 The matching gun rig and belt can be seen in this picture.
---


Click on CONTACT to send me email about this page!
Click on HOME to go to Clayton Moore, The Lone Ranger page!
---
This is a non-profit page.
Page Layout and Design by Steven Jensen
COPYRIGHT © 2001
ALL RIGHTS RESERVED!