"Lassie & The Lone Ranger"
Peace Patrol with Jon Provost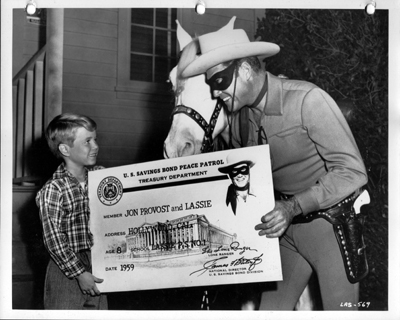 Jon Provost with Clayton Moore & Silver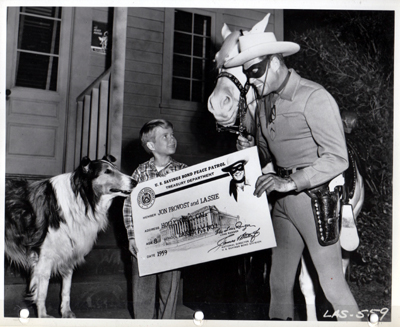 Jon Provost & Clayton Moore with Lassie & Silver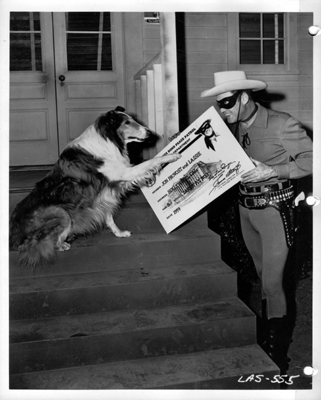 Clayton Moore with Lassie
These are publicity photos taken on the "Lassie" set in front of "Timmy's school" after we shot Mr. Moore's
guest appearance. Of course, I was a big fan -- what kid didn't love the Lone Ranger? I had met him before at
photo shoots. He was very kind...a big guy -- everybody was big to me -- with that great voice. My strongest
memory is that when we were done filming the episode, he gave me one of his famous silver bullets. I kept it for
years, but eventually gave it to a friend...don't remember who. Sure wish I had kept it now. I've thought about that
bullet a hundred times over the years.
Best,
Jon Provost "Timmy"
*Thanks to Jon for sharing these photos with the fans of Clayton Moore and the Lone Ranger show!
---


Click on HOME to go to Clayton Moore, The Lone Ranger front page!
---
This is a non-profit page.
Page Layout and Design by Steve Jensen
COPYRIGHT © 2006
ALL RIGHTS RESERVED! by the respective copyright holders