Texas Trail of Fame
Induction Ceremony
October 26, 2002 in Fort Worth, Texas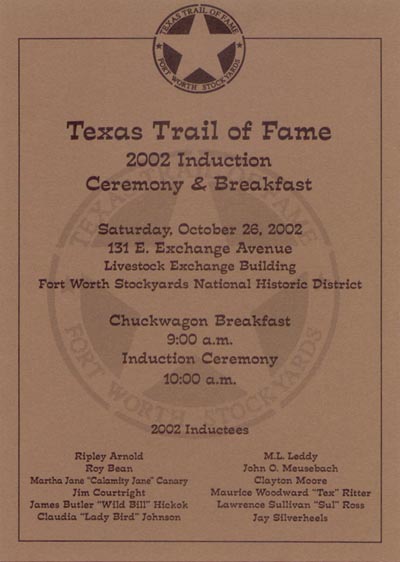 Schedule of events at the Texas Trail of Fame Induction Ceremony
and the 2002 inductees including Clayton Moore and Jay Silverheels
Clayton Moore and Jay Silverheels were among the twelve inductees at the 2002 Texas Trail of Fame ceremony on October 26, 2002. The ceremony was held at the Livestock Exchange Building in the Fort Worth Stockyards National Historic District.
Dawn Moore, daughter of the late Clayton Moore, was an invited guest for the ceremony, which inducted the two stars of the television program, the Lone Ranger. Dawn was presented with a Texas Trail of Fame Star in a carved wood box with Clayton's name and she spoke a few words in acceptance. (See the next picture)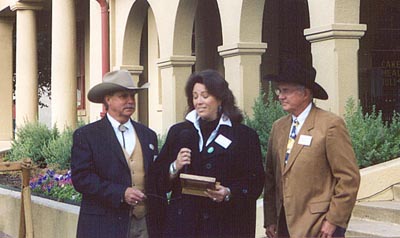 COPYRIGHT © 2002 Ronna Quimby
Dawn Moore receiving the Texas Trail of Fame Star for her father
Dawn was also able to view her father's bronze inlaid marker, that joins 83 other stars throughout the sidewalks of the Fort Worth National Historic District. The star is on Exchange Avenue and is near the star for Jay Silverheels.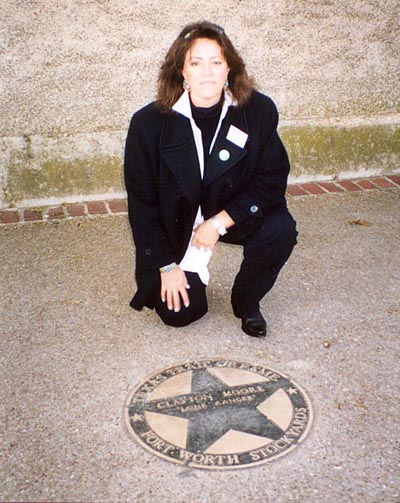 COPYRIGHT © 2002 Ronna Quimby
Dawn Moore kneeling beside her father's bronze star
Click here and visit the Texas Trail of Fame web site



Click on CONTACT to send me an e-mail regarding this page
Click on HOME to return to Clayton Moore, The Lone Ranger main page!
---
This is a non-profit page.
Page Layout and Design by Steven Jensen
COPYRIGHT © 2003
All Photos are COPYRIGHT © 2002 by Ronna Quimby
ALL RIGHTS RESERVED