House Peters, Jr.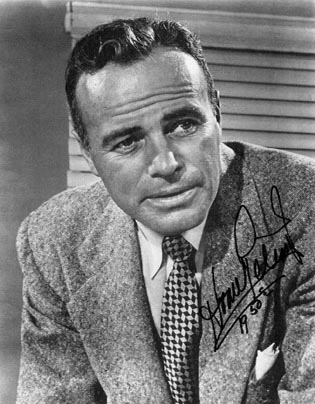 Photo of House Peters, Jr. in 1948
House Peters, Jr. was born January 12, 1916 in New Rochelle, New York. House was the son of House Peters, Sr. and Mae King Peters. House was a stage actor from 1936 to 1941 at the Pasadena Playhouse, Clinton Playhouse, Connecticut, Cornet Theater and the Ben Bard Playhouse. During World War II, from 1942 to 1946, House was a member of the Air Corps involved in Air Sea Rescue in the South Pacific.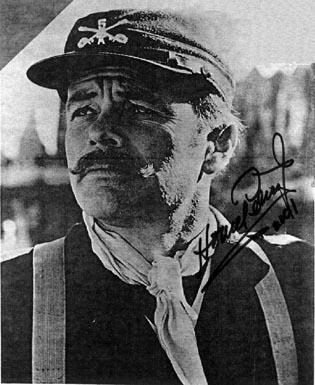 Photo of House Peters, Jr. in August 1957 from
the television western "Boots and Saddles"
House has appeared in many films with the first one being Hot Tip, 1935, an RKO Radio Pictures Inc. picture. The last film that House appeared in was The Great Sioux Massacre in 1965, Columbia Pictures Corporation film, with many others in between.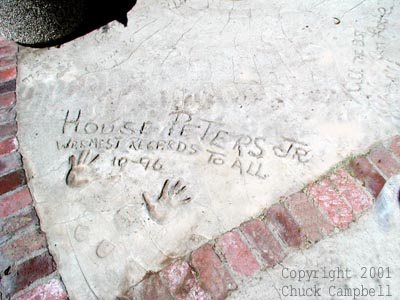 Photo of House Peters, Jr. boot and handprints at the
Iverson Ranch in 1996. Photo courtesy of Chuck Campbell
The television credits list for House is very long as he has appeared in countless television programs from the 1940's through1968. House has also appeared in many television commercials and the most famous of all is the Mr. Clean commercial. Yes, that was House as Mr. Clean.
Photo of House Peters, Jr. around 1950
House has appeared in many industrial and religious films and a few of these were: John Deere, Sinclair Oil, Chicago Wheat Market, and Lutheran National Council of Churches. These are a few names that House has supplied to me but there are others.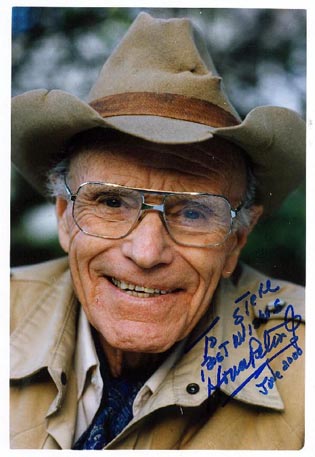 Recent photo of House Peters, Jr.
House has been married for over 55 years to his wife Lucy and they have a daughter, Kathy and two sons, Bob and Jon and 4 grandchildren. House told me in a letter that he was high school classmates at Beverly Hills High School with Rand Brooks, a very close friend of Clayton Moore.


Click on HOME to go to Clayton Moore, The Lone Ranger page!
---
This is a non-profit page.
Page Layout and Design by Steven Jensen
COPYRIGHT © 2001
ALL RIGHTS RESERVED!