Go to the T.V. Schedule
Clayton on a U.S. Stamp!
Silver Screen Legend XIII Opportunity Drawing!
Internal Links
(Stories, Actors, Memorials and More)

Clayton Moore Television Credits
Clayton Moore Film Credits
Lone Ranger Collectibles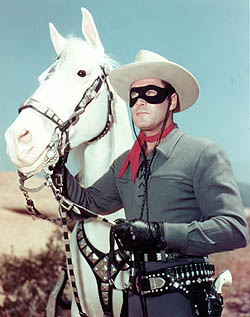 CLAYTON MOORE,
THE LONE RANGER
RETURN WITH US NOW TO THE THRILLING DAYS OF YESTERYEAR!
CLAYTON MOORE AS THE LONE RANGER RIDES AGAIN!
Click on the above button to hear "Hi Yo Silver, Away"
Click this line to hear The Lone Ranger Theme Song, The William Tell Overture
"The Lone Ranger! "Hi Yo Silver!"

A fiery horse with the speed of light, a cloud of dust and a hearty "Hi Yo Silver!" The Lone Ranger. "Hi Yo Silver, away!" With his faithful Indian companion Tonto, the daring and resourceful masked rider of the plains, led the fight for law and order in the early west. Return with us now to those thrilling days of yesteryear. The Lone Ranger rides again!
The Lone Ranger Creed!
By: Fran Striker

"I believe that to have a friend,
a man must be one.

That all men are created equal
and that everyone has within himself
the power to make this a better world.

That God put the firewood there
but that every man
must gather and light it himself.

In being prepared
physically, mentally, and morally
to fight when necessary
for that which is right.

That a man should make the most
of what equipment he has.

That 'This government,
of the people, by the people
and for the people'
shall live always.

That men should live by
the rule of what is best
for the greatest number.

That sooner or later...
somewhere...somehow...
we must settle with the world
and make payment for what we have taken.

That all things change but truth, and that truth alone, lives on forever. In my Creator, my country, my fellow man."



---

---
THE LONE RANGER and the names and images of the character and all other characters and elements associated with THE LONE RANGER are TM & &copy Classic Media, Inc., All Rights Reserved
---
This is a non-profit page.
Page Layout and Design by Steven Jensen
COPYRIGHT &copy 1998-2011
ALL RIGHTS RESERVED!